The Rockwell (now part of Boeing) B-1 Lancer is a strategic bomber used by the United States Air Force. First envisioned in the 1960s as a supersonic bomber with sufficient range and payload to replace the B-52 Stratofortress, it developed primarily into a low-level penetrator with long range and supersonic speed capability. Its development was stopped and restarted multiple times over its history, as the theory of strategic balance changed from flexible response to mutually assured destruction and back again. It eventually entered service more than 20 years after first being studied.
The B-1B production version has been in service with the United States Air Force (USAF) since 1986. The Lancer serves as the supersonic component of the USAF's long-range bomber force, along with the subsonic B-52 and B-2 Spirit. The bomber is commonly called the "Bone" (originally from "B-One"). With the retirement of the EF-111 Raven in 1998 and the F-14 Tomcat in 2006, the B-1B is the U.S. military's only active variable-sweep wing aircraft.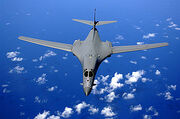 Ad blocker interference detected!
Wikia is a free-to-use site that makes money from advertising. We have a modified experience for viewers using ad blockers

Wikia is not accessible if you've made further modifications. Remove the custom ad blocker rule(s) and the page will load as expected.