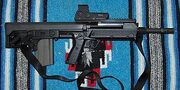 The
RFB
(Rifle, Forward-ejection, Bullpup) is a gas-operated semi-automatic rifle, manufactured by Kel-Tec Industries of Florida. At the 2008 SHOT Show held from February 2nd to 5th in Las Vegas, Nevada it was declared by Kel-Tec representatives that the RFB rifle would be made available to the public by the 4th quarter of 2008. Later, the Kel-Tec website stated that the 18-inch barrel carbine variant wouldn't be shipping until February 2009 due to a change in the production process meant to get more rifles manufactured before a new AWB can be put in place. The rifle first shipped to distributors in the first week of March 2009.
Ad blocker interference detected!
Wikia is a free-to-use site that makes money from advertising. We have a modified experience for viewers using ad blockers

Wikia is not accessible if you've made further modifications. Remove the custom ad blocker rule(s) and the page will load as expected.