The
M104 Wolverine
Heavy Assault Bridge is an armored combat engineering vehicle designed to provide deployable bridge capability for units engaged in military operations.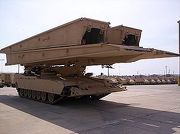 Because the Wolverine is essentially an M1A2 SEP tank with bridgelaying gear instead of a turret it shares virtually all of the parent vehicle's speed, mobility, survivability, and automotive components. This commonality was a key design factor in the Wolverine's development. The Wolverine also features an advanced communications package designed to keep it in contact with local field commanders. However, the vehicle itself is completely unarmed.
Ad blocker interference detected!
Wikia is a free-to-use site that makes money from advertising. We have a modified experience for viewers using ad blockers

Wikia is not accessible if you've made further modifications. Remove the custom ad blocker rule(s) and the page will load as expected.