The Rwandan Civil War was a conflict within the Central African nation of Rwanda between the government of President Juvénal Habyarimana and the rebel Rwandan Patriotic Front (RPF). The conflict began on 2 October 1990 when the RPF invaded and ostensibly end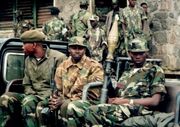 ed on August 4, 1993 with the signing of the Arusha Accords to create a power-sharing government.
However, the assassination of Habyarimana in April 1994, when his plane was shot down as it was preparing for a landing at Kigali, proved to be the catalyst for the Rwandan Genocide, the commonly quoted death toll for which is 800,000. The closely interrelated causes of the war and genocide led some observers to assume that the reports of mass killings were in fact some new flaring of the war, rather than a different phase. The RPF restarted their offensive, eventually taking control of the country. The Hutu government-in-exile then proceeded to use refugee camps in neighboring countries to destabilize the new RPF government. The RPF and its proxy rebel forces prosecuted the First Congo War (1996-1997), which led in turn to the Second Congo War (1998-2003), all of which involved a Hutu force with the objective of regaining control of Rwanda. Thus while the civil war officially lasted until 1993, some literature have the war ending with the RPF capture of Kigali in 1994 or with the disbanding of the refugee camps in 1996, while some consider the presence of small rebel groups along the Rwandan border to mean that the civil war is ongoing.
Ad blocker interference detected!
Wikia is a free-to-use site that makes money from advertising. We have a modified experience for viewers using ad blockers

Wikia is not accessible if you've made further modifications. Remove the custom ad blocker rule(s) and the page will load as expected.