The IAV Stryker is a family of eight-wheeled, 4+4-wheel-drive, armored combat vehicles produced by General Dynamics Land Systems, in use by the United States Army. The armored vehicle is based on the Canadian LAV III light-armored vehicle, which in turn was based on the Swiss MOWAG Piranha III 8x8. The Stryker is the U.S. Army's first new armored vehicle since the M2/M3 Bradley Fighting Vehicle in the 1980s.
The Stryker was championed by General Eric Shinseki when he was U.S. Army Chief of Staff. The vehicle is employed in Stryker Brigade Combat Teams, light and mobile units based on the Brigade Combat Team Doctrine that relies on vehicles connected by military C4I networks.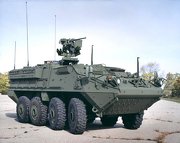 Ad blocker interference detected!
Wikia is a free-to-use site that makes money from advertising. We have a modified experience for viewers using ad blockers

Wikia is not accessible if you've made further modifications. Remove the custom ad blocker rule(s) and the page will load as expected.