The TAR-21 (or simply Tavor) is an Israeli bullpup assault rifle chambered for 5.56×45mm NATO ammunition with a selective fire system, selecting between semi-automatic mode and full automatic fire mode.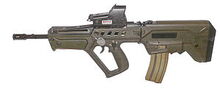 Built around a long-stroke piston system (as found in the M1 Garand and AK-47), the Tavor was designed to maximise reliability, durability, and ease of maintenance, particularly under adverse or battlefield conditions.
In 2009, the MTAR-21 (X-95) was selected to become the standard issued weapon of the Israeli infantry by the end of 2018.
Ad blocker interference detected!
Wikia is a free-to-use site that makes money from advertising. We have a modified experience for viewers using ad blockers

Wikia is not accessible if you've made further modifications. Remove the custom ad blocker rule(s) and the page will load as expected.