The
VHS
(
Višenamjenska Hrvatska Strojnica
—"multifunctional Croatian machine gun") is a 5.56x45mm NATO bullpup assault rifle designed and manufactured by HS Produkt of Croatia. The VHS rifle was first introduced at the 2007 iKA exhibition, the annual Croatian innovation display that takes place in the city of Karlovac. The development was carried on following a request from the Croatian Army for a new infantry rifle to update the individual equipment to NATO standards.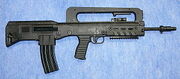 Ad blocker interference detected!
Wikia is a free-to-use site that makes money from advertising. We have a modified experience for viewers using ad blockers

Wikia is not accessible if you've made further modifications. Remove the custom ad blocker rule(s) and the page will load as expected.