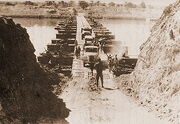 The Yom Kippur War, Ramadan War or October War, also known as the 1973 Arab-Israeli War and the Fourth Arab-Israeli War, was fought from October 6 to October 26, 1973, between Israel and a coalition of Arab states backing Egypt and Syria. The war began with a joint surprise attack on Yom Kippur, the holiest day in Judaism, which coincided with the Muslim holy month of Ramadan. Egypt and Syria respectively crossed cease-fire lines to enter the Israeli-held Sinai Peninsula and Golan Heights, which had been captured and occupied since the 1967 Six-Day War. The conflict had all the elements of a severe international crisis, and ended with a near-confrontation between the two nuclear superpowers, the United States and the Soviet Union, both of whom launched massive resupply efforts to their allies during the war.
Egyptian Attack
Edit
The war began with a massive and successful Egyptian attack across the heavily-fortified Suez Canal during the first three days, after which they dug in, and the southern front settled into a stalemate. In the north, the Syrians simultaneously attacked the critical Golan Heights and initially achieved threatening gains, after which their momentum waned. Within a week, Israel repelled the Syrian attack and launched a four-day counter-offensive, driving deeper into Syria. To relieve this pressure, the Egyptians renewed their offensive, but decisively failed to advance; the Israelis then counterattacked at the seam between two Egyptian armies, crossed the Suez Canal, and advanced southward in over a week of heavy fighting. Israel encircled elements of Egypt's Third Army after an agreed United Nations ceasefire resolution. This initially prompted tension between the superpowers, but a ceasefire was imposed cooperatively on October 25 to end the war. By the end of the fighting, Israeli forces were 40 kilometers from Damascus and 101 kilometers from Cairo.
Ad blocker interference detected!
Wikia is a free-to-use site that makes money from advertising. We have a modified experience for viewers using ad blockers

Wikia is not accessible if you've made further modifications. Remove the custom ad blocker rule(s) and the page will load as expected.